Welcome to

Kids Fitness Palace
We specialize in a range of programs designed to keep your kids moving, active, and learning about healthier lifestyles. We have weight loss classes as well as one-on-one personal training for kids, ranging from a beginner level to those with more sports specific athletic training needs.
Our programs encompass children from all walks of life, with all sorts of labels: From the "shy" kids to those who are "un-motivated" to participate in team sports. From the obsessive video "gamer" to the super "athletic" professional bound child… nerdy, lazy, bullied, jock, chubby, unmotivated, motivated, high energy, low energy, and special needs. We've coached them all! Our programs are designed to connect kids to their particular level. We simply help you choose the correct program for your child's specific need.
Come join

Kids Fitness Palace
A fun place where kids in Miami can get active and grow strong & healthy.
Kids Fitness Place (KFP) has a mission: To teach kids and teens self-confidence and to believe in themselves through creative workouts and fitness classes.
At our palace kids feel welcomed and learn to believe in themselves, all while having a blast exercising their bodies!
happy, healthy & fit kids
That's what
we're all about
Inspired by your kids'
well-being
For years I had been listening to frustrated parents at my business, Precision Personal Training, complain about their kids' excessive screen time and lack of exercise.
As the parent of two kids myself, I understood the big need for a kids gym to address their growing concerns. I envisioned a fitness center that would provide a safe place where kids could be, well, kids.
Our goal then was, and still is, to instill in your children a lifetime enthusiasm for exercise and physical activity. 
At Kids Fitness Palace south Miami, we provide affordable, FUN fitness classes, personal training, and coaching for kids between 5 and 18 years old.
"I wish I had found out about this place earlier!"
It's a comment we hear over and over again.
"What exactly do you do here?"
It's a question we hear often, as well.
Our answer's always the same:
Through exercise, Kids Fitness Palace provides kids the ability to grow with strong & healthy bodies, and with precious
self-confidence
as well.
Today is the right time to get started. Let you and your child, discover the fun and safe way to exercise and grow stronger & healthier. All while he or she knows they can do it!
So c'mon over to our Palace, your child's first workout is on us.
Yep! So book yours now!
See y'all soon,
kids & parents
we love you back
I'm impressed by the change in Brandon. He has more energy and now enjoys playing sports outside. I see a change in him. He now understands how important it is to stay fit. I'm very proud of him
My son loves attending the group fitness classes – I love that he comes out of the class super sweaty 🙂
My kids enjoy the kids fitness classes and get great workouts. They finish sweaty messes. Dennis, their trainer, is excellent with all the kids!
Great staff and my daughter is really enjoying her time there. We expect a long relationship with Kids Fitness Palace.
My daughter absolutely loved her class and can't wait for the next. They actually made working out fun for the kids. The staff is great and very helpful. We will definetly be signing up after our groupon expires.
Choosing
to Palace or not to Palace
that's the
easiest
question
Our expert kids fitness trainers have created a studio that appeals to youngsters who may not fit into the typical childhood activities, such as team sports, dance, or martial arts. 
If you're a parent who cares about keeping your child active and healthy, then this is the palace for you and your family.
We're all about making fitness exciting for kids, from 5 to teenagers (and beyond, actually. Check out or premier adult personal training studio). 
Kids run rampant through Kids Fitness Palace, harnessing their seemingly boundless energy to complete obstacle courses or finish fun fitness challenges.
Organize your
exercise routine
Click on each day to view its classes
Kids Fitness Class
Ages: 6 to 11
5:00 PM - 6:00 PM
Girls TEEN
Ages: 11 - 15
7:00 PM - 8:00 PM
Kids Fitness Class
Ages: 6 - 11
6:00 PM - 7:00 PM
Boys TEEN
Ages: 11 - 15
7:00 PM - 8:00 PM
Kids Fitness Class
Ages: 6 to 11
5:00 PM - 6:00 PM
Girls TEEN
Ages: 11 - 15
7:00 PM - 8:00 PM
Kids Fitness Class
Ages: 6 - 11
6:00 PM - 7:00 PM
Boys TEEN
Ages: 11 - 15
7:00 PM - 8:00 PM
Kids Fitness Class
Ages: 6 - 11
6:00 PM - 7:00 PM
Kids having a ball
exercising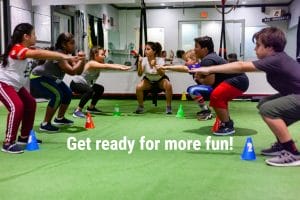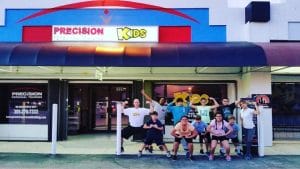 are invited

to the gym kids in Miami love ❤️

pssst. we gotta special place waiting for you!
Does your child think he doesn't like working out?
Perhaps she's somewhat overweight and feels self-conscious going to a fitness class?
We get it's often hard for a growing kid to feel he fits in. Not to mention teenagers! They're still searching for their own identity & place in the world.
That's exactly why our team of certified personal trainers goes out of its way to make your child feel welcomed and encouraged, no matter their weight, age or skill level.
So c'mon over to our Palace, a fun and safe place for your kid to just be a kid. Your child's first workout is on us!